SOFT-PEELING
facial peeling with natural proteins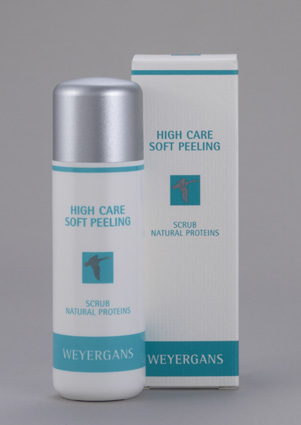 Properties

SOFT PEELING is ideal for regular gentle deep cleansing of facial skin. SOFT PEELING contains tiny round abrasive particles to gently remove scaly skin. The natural proteins allow the skin to restore its protective layer and prevent premature reformation of scaly skin. The allantoin and soya oil are to supply the skin with grease and moisture. Arnica is well known for its soothing effect on the skin.
Directions
SOFT PEELING should be used once a week or more often depending on need. If the skin is very dry SOFT PEELING can be used twice a week. It is massaged into the face, neck and décolleté with moistened hands, rinsed off with warm water and then the recommended care product is applied.
Additional care with Weyergans High Care Cosmetics products
Before using SOFT PEELING the skin should be cleansed with CLENSING BALM or the cleansing system CLEANSING MILK and TONE UP. Choose the follow-up care according to the condition of your skin. Day and night care is determined by the grease and moisture content of the skin and the time of year. The delicate skin around the eyes needs special attention such as EYE LIFE or EYE SENTILAL. Therapies should be scheduled for the change of season and a wide selection of masks, ampoules and concentrates is available.
Note
In addition to a protective protein complex SOFT- PEELING also contains arnica extract and allantoin which immediately alleviate any skin irritation, so it is suitable even for sensitive skin. The excellent skin compatibility is further increased by natural soya oil which makes the product easier to massage in without irritating the skin.