EYE SENTIAL
Protection and care for the eyes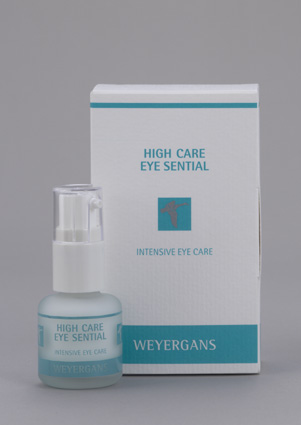 Properties
EYE SENTIAL is a gel cream for the special care of the demanding skin around the eyes and the lips. The skin around the eyes is thinner than the rest of the facial skin and the elasticity is lost very quickly. Lines and wrinkles form quickly especially due to facial expression and the general ageing process. EYE SENTIAL gives the skin the attention and care it needs to prevent eye and lip wrinkles.
This extremely economical gel cream contains valuable ingredients to supply the skin with moisture. A phytohormone, an imitation of a natural hormone, regulates the zytokine balance. The zytokine balance is responsible for many signs of ageing . The phytohormone lipopeptide is also compared with the "youth hormone", it increases the elasticity of the skin. Root extract, a vegetable extract containing potassium, and natural moisturizers enable the skin to store more moisture. The increase in skin moisture is measurable and was tested on the raw materials. With vitamin E EYE SENTIAL contains a high natural light protection factor to protect the skin from damage through sun and light.
Directions
A very light preservative could be added to EYE SENTIAL. It is protected by a hygienic pump dispenser which ensures optimum dosage. One portion is enough for both eyes and the lips. After gentle cleansing, EYE SENTIAL is dabbed onto the skin starting below the eyebrows to the temples and round under the eyes. The cream gel is absorbed quickly so make-up can be applied immediately. The rest of the cream is smoothed around the mouth.
Additional care with Weyergans High Care Cosmetics products
CLEANSING MILK and TONE UP are the ideal cleansing system for dry, sensitive skin. A wide range of concentrates, ampoules and masks is available to deal with special needs of the skin and for therapies. VIVA FLUID moisturizing ampoules and VIVA MOISTURIZER supply the skin with moisture.
Note
EYE SENTIAL is made with special moisturising substances. The potassium containing desert plant Imperata cylindrica can keep and spend moisture. Potassium is essential for a tight connecting tissue. A special lipoproteid regulates the balance of cytokines which mediate and activate cell proliferation. Additionally, EYE SENTIAL contains the natural light protector vitamin E because most of the skin damages are caused by ultraviolet radiation.