HYDRO MOUSSE
Hydro vitamin foam for facial care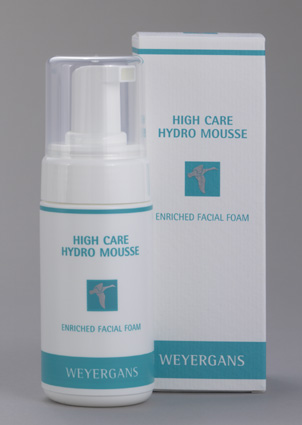 Properties
HYDRO MOUSSE vitamin foam for facial care has the special properties of sophisticated moisturizing care for Him and Her. The light foam combines practical application with superior, modern ingredients. HYDRO MOUSSE provides moisturizing care of an extremely high standard with easy, exact and hygienic dosage.
Air-conditioned rooms, bad drinking habits, strong sunshine all impair the ability of the skin to bind moisture. This results in initial lines and wrinkles and a feeling of tightness on the skin. Hyaluron acid and pentylene glycol are excellent moisturizers for the skin. The moisturizers have an instant effect but are included for a long-term improvement of the skin. Root extract, a vegetable extract containing potassium, gives the skin the ability to store more moisture. The improvement in skin moisture is measurable and was tested on the raw products. Various vitamins are contained to supply and regenerate the skin cells. The skin needs vitamins as free radical inhibitors so that cell damage can be prevented and the regeneration of connective tissue improved.
Directions
Use depends on personal need; use HYDRO MOUSSE vitamin foam as often as you like. The measured dosage through the dispenser makes application easy and economical. One portion is enough for the face, neck and décolleté. Apply HYDRO MOUSSE vitamin foam as day and night care after cleansing and allow to absorb. HYDRO MOUSSE vitamin foam is also ideal for men as facial care after shaving. It is absorbed quickly and has a pleasant, neutral fragrance.
Additional care with Weyergans High Care Cosmetics products
The basis of perfect care of the skin to prevent any skin damage is careful cleansing. CLEANSING MILK and TONE UP prepare the skin for follow-up care with HYDRO MOUSSE. If your skin is already showing signs of ageing, we recommend use of the rich moisturizer VIVA as night care. The skin needs additional regeneration at the end of summer and winter. The stress to the skin caused by heat, cold and wind is alleviated by a therapy of Soft Peeling facial peeling, Hyaluron pure and Set up moisturizing mask.
Note
HYDRO MOUSSE contains, like EYE SENTIAL too, the desert plant Imperata cylindrica to bind and store moisture. The light foam contains vitamins and hyaluronic acid (produced biotechnologically). It can ideally be combined with JOJOBA OIL and AVOCADO OIL. The numerous plant extracts and vitamins guarantee a good conservation of the product.