MESO PEN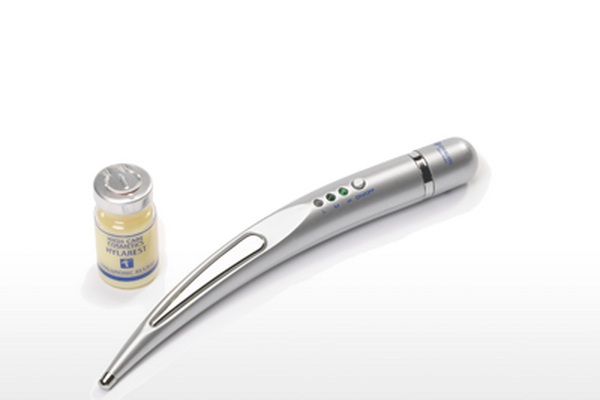 MESO PEN: Iontophoresis for self-treatments
Iontophoresis has been a recognized physical therapy procedure for decades, and is used to introduce active ingredients to the skin (transdermal system). The IontoPen is the first appliance that enables you to carry out the treatment on yourself.
Furthermore, the MESO PEN is also able to additionally regenerate and firm the skin tissue. With the help of a pulsating direct current, the lymph ions are activated; this in turn leads to greater absorption of the cells (diffusion and osmosis) and thus to improved cell division.
Instructions for use
The MESO PEN is held in the working hand like a biro and your index finger should touch the oval gold-plating (for good contact, you might want to moisten your finger). Then the tip of the pen should touch the area of skin to be treated on which the liquid, which will be massaged in, e.g. Eyeserum, should first be applied.
With light pressure, light, circling motions are used to work in the active ingredient concentrate. The current flows from the tip (-) of the pen, through the skin and through the body and back to the + pole of the pen (finger). On the way through the skin, the current can also transport the active ingredients of the concentrate and thus ensure sufficiently deep penetration.
The current flow is displayed by a blue flashing light.
A self-treatment takes as long as the concentrate takes to be worked in and the flashing light goes out.
Tip
The MESO PEN is designed for self-treatments. If you want to use it to perform iontophoresis on another person, you must establish body contact between yourself and the other person so that the current can flow!
The MESO PEN is not only suitable for introducing the Eyeserum, but also for other concentrates, active ingredients and vitamins from the Weyergans High Care range, particularly for:
- Soon Future concentrate 5% (botox substitute to combat wrinkles)
- Mistletoe concentrate (anti-ageing)
- Complex Multi Vitamin (building up the skin structure, supply of nutrients)
- ReSet (for stressed skin)