Body Star
Whether for cellulite and local adipose, for body-contouring or for a relaxing electro-massage on the whole body – with its wide range of uses electrotherapy from Weyergans with the BODYSTAR® device offers the greatest benefits.
The possibilities for use are manifold. For example unsightly jodhpur thighs and cellulite.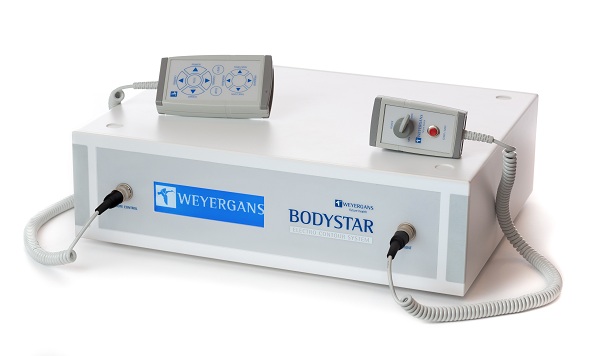 Fine currents for a good figure
The decomposition and breakdown of fatty deposits is called lipolysis. This process normally takes place with the help of enzymes. Due to the BODYSTAR® treatment lipolysis can be activated from the outside using ingenious, fine currents. The exactly adjustable current is applied either by fine needles or special electrodes. In this way smaller and larger dents disappear and the skin looks firm and healthy again.
Nice and firm
A further highlight of the BODYSTAR® treatment is the so-called Isotone program, a method of gaining lasting firmness of the breast, stomach or bottom. The self-adhesive special electrodes are simply placed on the part of the body to be treated and off you go. The treatment only takes 15 to 30 minutes depending on the body zone. During this time you can simply relax as the currents do the work on their own. We recommend first carrying out the treatment as a therapy (twice a week – seven to twelve treatments in total). Isotone – targeted firming with special currents.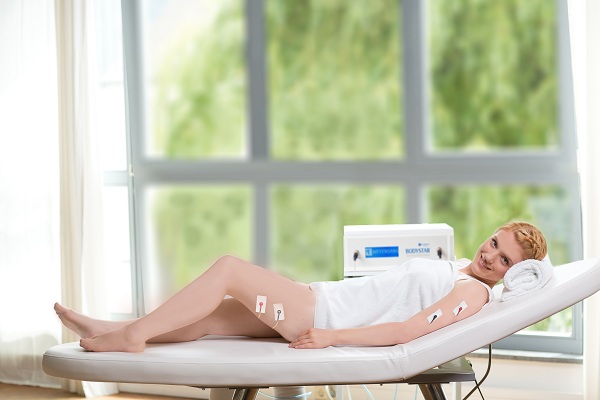 Regeneration through "passive gymnastics"
The Polyshape program uses the different abilities of various shapes of current impulses for regeneration and tissue firming. Weyergans was the first company worldwide to develop this form of treatment, using for example sinus, rectangular and exponential currents. The method activates the ion exchange in the tissue of skin, fat and muscles to the highest degree. So the zone being treated gains an optimum supply of oxygen, nutrients and defense substances and thus the tissue can regenerate well. With the use of this technique the results – even after a short treatment time – are considerably better than with the conventional technique. Make sure you don't miss out on all these benefits. BODYSTAR® – and you can be proud of your body again!
The operation is also part of the Differentiated Cellulite Treatment (DCT).